Tomato Menu at Stage Left Steak
Tasting Menu Available through August
Items Subject to Change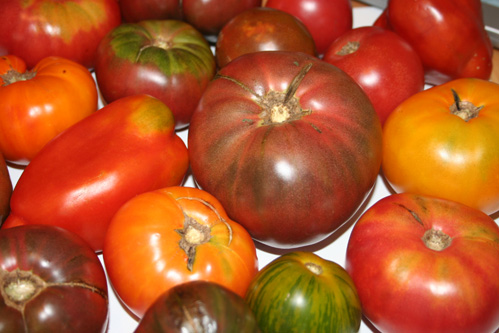 ** Menu Available starting Sunday, July 29th through August 2018**
A Shot of Tomato Soup
and a BLT Amuse
NJ has been known for extraordinary tomato production since The Campbell's Soup factory in Camden gobbled up as many tomatoes as we could grow in The Garden State...
Varietal Tasting of Red and Yellow Heirloom Tomatoes
House – Made Mozzarella, Roasted Pumpkin Seed Oil, Aged Balsamic Vinegar
The first tomatoes to reach The Old World were assigned the name "pomo d'oro" by Sienese botanist Pietro Andrea Mattioli. "Pomo d'oro" translates literally as golden apple.  We assume they were

yellow tomatoes

... The variety of tomatoes available

today

is breathtaking.  This is a direct result of people supporting our local farmers at greenmarkets and demanding better, more interesting, and more local products...
Sungold Tomatoes & Hamachi
Flat Iron Steak, Aztec Sauce, Jalapeno Corn Bread
 There aren't many surviving

Aztec

recipes, so we're working from various descriptions.  The first western person to write of a sauce including tomatoes was Bernardino de Sahagún, a Franciscan missionary to the Aztecs, who made note of a prepared sauce offered for sale in Tenochtitlán (

today

's Mexico City) some time before 1590.  He reported that the sauce contained tomatoes, hot peppers and pumpkin seeds.  The Aztecs also taught us how to use corn...
Candied Tomato Brûlée
Basil & Black Pepper & Balsamic Ice Cream

 We end our dinner story

firmly in the present and with an eye to the future

.  American chefs are informed by the past but are not bound by it. The tomato's balance of texture, sweetness and acidity and its existence in the middle-grounds between savory and sweet, between fruit and vegetable, provide chefs with an exciting area to explore, delight and surprise us in ways rarely considered.  Witness the Candied Tomato Brûlée with Three Ice Creams...
** Menu Available starting Sunday, July 29th through August 2019**
**
Reservations@stageleft.com
**
732-828-4444